Reviews about
Michael Lasoff
---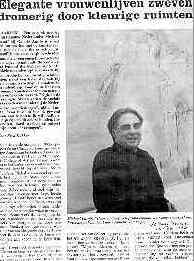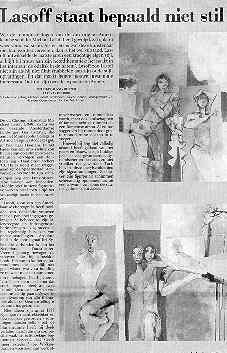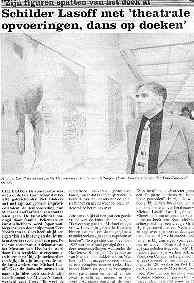 ---
"On the large painting ("Oasis Resonation") a man stretches his arm out to a lower placed seated woman, touching her. The man however is painted with two faces which raises questions concerning appearance and reality, lies and truth. Here the gist of Lasoff's craftsmanship is underlined. The artist paints accessible beautiful paintings that do not give away their secrets, this way insuring us for an exciting viewer experience."
Lida Bonnema, Stad & Streek Hoorn
"Lasoff's work practically always shows figures of women. His earlier pictures used especially tender, soft and subtle tones but it seems as if he has developed more passion. The new paintings are using stronger colors and have a more dynamic radiation than before. There's a lot to guess about in Lasoff's expressive images. Vague lines en figures give the viewer the feeling that there is an elusive mystery behind the work. His way of painting is so much his own that there is presently no current art movement that can encompass him."
Witte Weekblad Hillegom
"The paintings are penetrating and moving but also amusing and joyful. Although they have something dreamy and meditative about them, they make one happy. There is a radiating optimism about this work…While almost exclusively concentrating on the human figure, quite often nudes, his paintings are more than just 'female nudes'. The women are put in an environment that is never an exactly definite place. Mysterious objects and vague contours populate the space and allow the viewer to guess at their story…Lasoff's paintings while being thoughtful, are also happy and sympathetic. They appear to be the same as the artist himself."
Trix van der Putten, Tabaksblad
"The painting. 'Arcane Wisdom', is for the sixth sense. Against a background of abstract blocks and contrasting color areas, are two standing women. Their staring looks and gesturing hands give the impression that some sort of cryptic ritual is taking place. Precisely because of the absence of a recognizable realistic background, is the elusiveness of this image, strengthened."
Anne-Mara van Kampen, Haarlems Dagblad
"Whoever has been following the exhibitions of the American painter, Michael Lasoff, shall once again be surprised. If there is one thing that can not be held against this artist, it is that he never remains still. Lasoff has developed over the last years, his own powerful style...Lasoff wouldn't be Lasoff if he hadn't evolved from his older style ideas. This is what makes each new exhibition interesting."
Aart van der Kuil, Haarlems Dagblad
"Lasoff is very subtle in his use of color. There are beautiful combinations of soft tints with here and there hard accents. His work rings up associations with theater and sets. He first creates the color areas and afterwards the figures jump out of the canvas."
Cees Noordermeer, Hillegomer
"Colorful compositions on large canvases, nudes and pure abstract work. The American painter is able to do everything...The artist uses above all his fantasy...which shows itself in a mysterious relation between the painted figure and the background."
Leidsch Dagblad

"The paintings of Michael Lasoff emote a striking charm. This can partly be explained by the sensitive way in which he deals with his subjects and by just as an important part by his technical skill as a painter...The poses of the models are never placed in a seductive manner and for exactly this reason the seductive charm is extra effectively present. The painted women are never the powerless victims of the spying observer...They are never caught in their nakedness rather they are enveloped in the consciousness of their own skins...Lasoff's compositions are daring, always deviating from the expected...The cleverness of his intervention is that the background is never in disharmony with the radiation of the model. Yet, on the contrary, a large part of the sphere and personality of the painted figure has been defined together by background. In spite of the restrictions of the theme, Lasoff succeeds in convincing us of the inexhaustible richness of appearances of the being, woman and the relevancy this being has for him."
Antoon de Ridder, Ede/Wageningen Krant

"On his large canvases, float light and elegant women's bodies, dreaming through a transparent colorful landscape and space, through which a bizarre perspective is created."
Fred Dukker, de Haarlemmer
"Michael Lasoff has had other influences than 'the trend' on his work. He reacts with special complete identities; nudes that reflect intuitive, tender, beautiful, ripe, strong but also vulnerable aspects...I have been following the work of Michael for more than five years...With every new show, you discover a new step in his work...I hope that you will enjoy his new work as much as I do."
Leo Adriaanse, director Stadsmuseum IJsselstein
---
Back to the Homepage